luxury driving tours in Europe
The luxury driving tour company Colcorsa was founded by road trip enthusiast Sara Norris to share her love of the world's greatest driving roads in the best driver's cars. The driving tours we offer on our website are designed with passion and expertise. A passion for finding the most enjoyable driving roads in Europe behind the wheel of the most exciting driver's cars. But also with a passion to create an unforgettable journey. We want you to remember not only a fabulous driving experience, but also the charming hotels you stayed in, the breathtaking scenes you witnessed along the way, and some unforgettable memories to remember for a lifetime. At Colcorsa we only feature driving regions we have personally explored, and now we want you to experience them too.
We have created varied exciting driving tours that will appeal to all different types of drivers. Some of our driving tours are luxury driving holidays, where you can tour more at leisure in the most beautiful regions of Europe. Perhaps you would like to stop at vineyards, visit landmark tourist attractions and dine in Europe's best restaurants. Other tours are more designed for the driver who prefers to spend as much time behind the wheel, driving the greatest roads in remote mountain regions. Just you, your high performance car, and the call of the open road - the purest supercar driving experience.
We also offer our one of a kind Supercar Week. For a driving holiday like no other, stay in a five star luxury hotel or villa with friends or family, and have a new supercar delivered to your doorstep every morning for the whole week - or as many days as you would like to drive. Pick from your bucket list of dream cars and let us design the perfect road trip to suit each car.
The one common factor with all our tours is that they include the most scenic and best driving roads we have driven in Europe, and the most luxurious hotels. Our fleet of cars is carefully selected by us to include only the best in the world, so you can choose your dream car from that ultimate list, with new models being added all the time.
We hope that you enjoy browsing through our selection of driving tours as much as we enjoyed putting them together.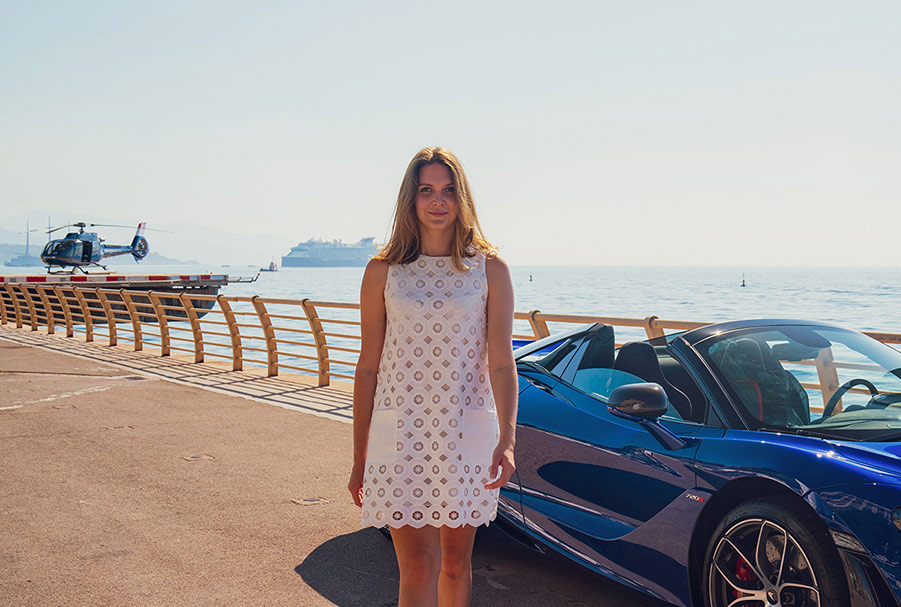 Sara's passion for the road, adventure, and cars began in her early twenties – a wonderlust born out of the desire to find out where every road leads. During her career she has worked as a journalist, photographer, and marketing and events manager, as well as running her own road trip blog, charting her adventures across Europe. Perhaps it was only natural, having covered tens of thousands of kilometres exploring the continent's most beautiful roads, that she would want to share her passion for thrilling cars and driving adventure. In 2016 she followed her dream, and Colcorsa was born.

Sara's obsession with detail, combined with a true desire to provide the very highest levels of personal service, immediately struck a chord with adventurers from around the world, and she quickly built a reputation for quality and reliability, her encyclopaedic knowledge of the greatest driving roads backed up by an instinctive eye for exclusive luxury and of course, a true love of fast, exotic cars.

Behind every tour lies Sara's personal touch – from bespoke route planning and checking, creating individually customised adventures, to the design and feel of the now famous Colcorsa road books, her own carefully selected collection of hotel partners, and the practical elements of travel arrangements and bookings – all carried out with reassuring attention to detail and down to earth, old fashioned dedication.

Sara is the genuine article, each tour means everything to her – and her overriding goal is that each and every Colcorsa traveller experiences the drive – and road trip adventure – of a lifetime.

Sara is fluent in English, Swedish and Finnish
Dan's lifelong passion for cars and driving began as a small boy growing up in the golden era of supercars and road travel, running around the garden in an imaginary Renault Alpine A110. After a career in the corporate telecommunications sector, running several successful companies, Dan sold his interests and followed his dream into the world of cars, specialising in the sale and restoration of classic BMWs, himself becoming a collector.

Inspired by Sara's unique dedication to her clients, Dan joined Colcorsa as corporate sales director, combining his experience of the business world with his love of adventure and of course, supercars. His understanding of business and sales attracts corporate clients from around the world.

Dan's determination to find perfection is clear from everything he does at Colcorsa, from helping organise corporate tours and incentives, to individual tour handovers and briefings. Dan's life experience and organisational skills make him the perfect group tour guide, leading Colcorsa's corporate adventurers along Europe's greatest driving roads, ensuring Sara's exact vision is realised.

Dan's love of adventure and business, as well as his passion for fast cars and 'spirited' driving, means Colcorsa has the perfect team to organise those exclusive corporate incentives, his vision for luxury and exclusivity exactly in line with Sara's desire for the very best client experience.

Above all, Dan believes that road trips should be fun, and that with Colcorsa, every client should experience the road trip adventure of a lifetime.

Dan is fluent in English and French
We're here to make your
road trip dreams come true
"We had an excellent experience working with Sara on our trip. She always went the extra mile from preparing different options for our tour to ensuring that any hiccups were dealt with smoothly and promptly. The tour itself was also amazing and our restaurant recommendations were all delicious. Definitely going to recommend to friends and family as well as do another trip sometime on the future!"
"From my first inquiry with Sara until the offboarding after our trip, the whole experience was premium and worth every penny of the price. Having done many roadtrips ourselves, I think the pre-planned routes impressed us the most, not a single moment of our 800km in the car was wasted on uninteresting roads. Then there was the hotels, the restaurants, the 24/7 WhatsApp assistance… and the Ferrari Roma….. We'll definitely be back. Thank you Sara."
"If we could describe our Colcorsa experience in one word it would be gestalt. We honestly can't thank Sara enough for curating our dream honeymoon, in the dreamiest locations and in the dream car. From the moment we connected with Sara and started planning our Colcorsa adventure we knew we were in gifted hands."
"Amazing experience. Sara & the Colcorsa team did a superb job providing us with a fantastic car (992 GTS), brilliant route that included some great driving roads, perfect spots for stops, and wonderful hotels. I wouldn't hesitate to recommend them!"
"By far the best trip I've ever taken. Would highly recommend to anyone that even remotely likes cars and traveling. Looking forward to planning another itinerary."
"We had an amazing time. Driving this car was a dream come true and Colcorsa made it possible. Sara was very helpful during the entire process. The only "downside" is that it would be very hard in the future to be impressed by another car 😉 I would recommend to anyone to use the services offered by Colcorsa."
"It was first rate from start to finish. The beautiful Audi R8 arrived on time at our hotel and Alex explained everything about the car and trip we needed to know. The Garmin led us flawlessly from point to point in a country which we had never before traveled. The suggested route allowed us to drive over the most amazing roads imaginable. When we arrived at our hotel in St Moritz , our luggage was waiting for us and the car handed back smoothly. I would certainly do it again and with this agency."
"Sara made booking super easy and the delivery from Barrie was fun and informative. We toured around Nice and Menton finishing at Hotel du Cap. We loved every minute and the car was the icing on our anniversary cake! A very special car, definitely draws attention, in a good way!!!"
START PLANNING YOUR DRIVING ADVENTURE