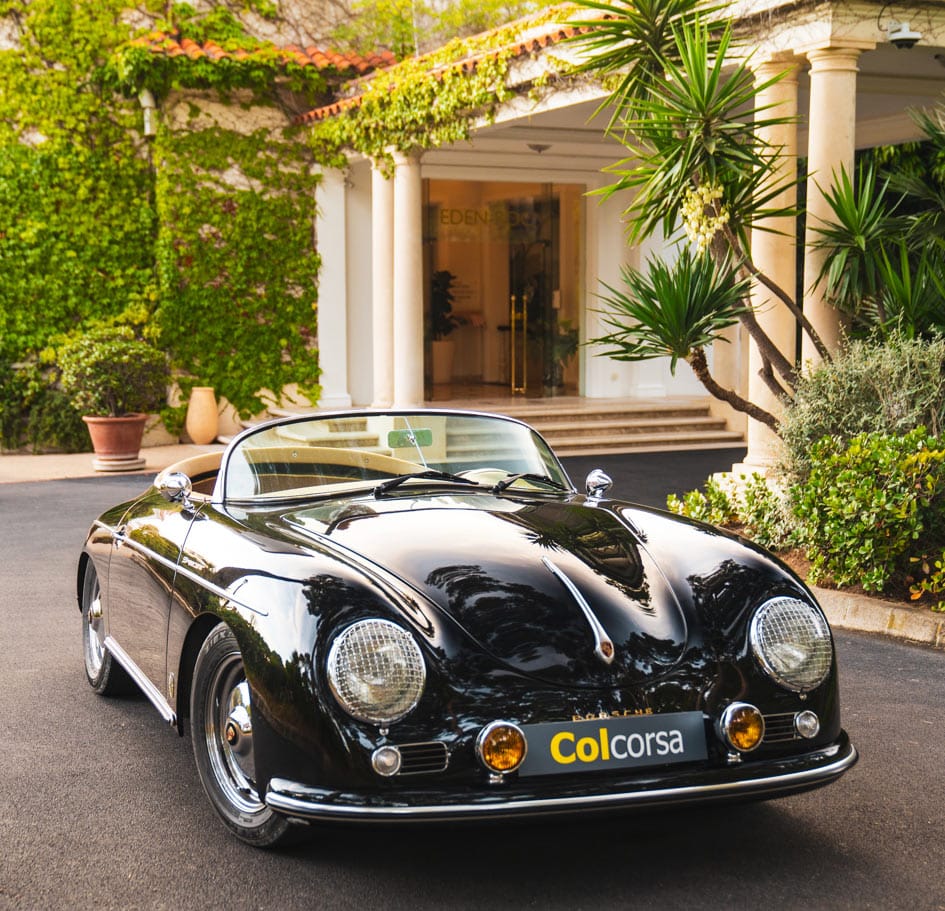 Classic car hire & classic car tours in Europe
At Colcorsa we specialise in classic car hire. Nothing evokes the thrill of the open road quite like touring the coastal roads of the French Riviera or the Tuscan countryside in a classic automobile. Whether your dream is to enjoy a road trip behind the wheel of a classic Mercedes-Benz Pagoda, or to arrive at your special event in a Porsche 356 Speedster, our classic car team will be able to advise you and help you choose the perfect car for the right occasion.
Many of our clients' love of classic cars comes from their childhood, whether it be famous film scenes such as the Jaguar E-Type in The Italian Job or the Ferrari 308 GTS from classic 80s series Magnum P.I. Sometimes it's the love of motorsport from a golden era such as the BMW E30 M3 – the most successful touring car of all time – made legendary by championship winning drivers like Johnny Cecotto and Roberto Ravaglia. Each individual classic car offers the driver a different experience. A classic car always says something about its driver. Taste, elegance, and an innate sense of style comes as part of the package when you choose to rent a classic car from Colcorsa.
Our classic car hire fleet varies from cars suitable for self-drive to chauffeured services.
Classic car hire & driving tours
We offer a full range of classic car hire for our classic car tours - or if you'd like to book a classic for your holiday without a planned driving tour we'd also be happy to assist. If your dream is to discover Tuscany in an open-top Alfa Romeo Duetto, or explore the lavender fields and vineyards of Provence in a 60's Ford Mustang, at Colcorsa we can arrange the perfect car for a once in a lifetime road trip.
Wedding classic car hire
Nothing can be more elegant or individual for your wedding day than arriving in style in a classic car, whether it's on the Côte d'Azur or a hideaway in Tuscany. Whether you choose the ultimate in class, such as a chamonix white 1970s BMW Coupe, or a classic open-top like the Pagoda – or even something more eclectic and maybe even little eccentric, such as a 1969 Land Rover Series IIa, our classic car hire fleet is sure to have the perfect car for your special day.
Films, commercials and events
Most of the cars in our classic car hire fleet are available to rent for films, video production, photo shoots and as display pieces for exhibitions (some only together with an accompanying driver and/or special insurance), and can be delivered by special arrangement to almost anywhere in Europe.
Our classic car tours in Europe
The tours are self-drive (we can also arrange guided group tours by request), and include classic car hire for all touring days, luxury accommodation, and a tour package with maps and roadbooks.
For a full list of classic cars available for self-drive in Europe, please refer to our booking request form below, with an up to date list of available cars in each country. For longer rentals delivery is possible also to neighbouring countries – for other locations further away please get in touch to request a quote.
Only chauffeured / films / commercial / events