At Colcorsa our passion is to explore the world's greatest driving roads in the best driver's cars. We are very proud of the positive vibes and road trip stories we hear from our like-minded travellers, who have embarked on their Colcorsa driving adventures to destinations we have personally recommended and love, returning home feeling they've experienced one of the ultimate drives of their lifetime. Their good vibes are what fuels our engine.
We're in the business of designing once in a lifetime driving tours in thrilling supercars, sports cars and classic cars – but our journeys are so much more than just a driving experience. For some of our road trippers the highlight of their trip might be a drive on the world-famous Stelvio Pass for a sunrise hillclimb, whilst for others it could be 'the best meal they've ever had' in one of our handpicked restaurants. Maybe they've found a hidden exotic hotel that they will return to for years to come, or perhaps even fallen in love with the car so much that they've bought one when they returned home. We encourage our adventurers to share their highlights and favourite snapshots from their journey with us, so we can share them with you, and hopefully inspire you to dream of that perfect road trip adventure.
Below you can find a selection of our road trip stories and testimonials, from past road trippers who have had their bespoke driving adventures designed by Colcorsa. Dream first, then drive, and share with us your adventure.
We're here to make your
road trip dreams come true
"We had an excellent experience working with Sara on our trip. She always went the extra mile from preparing different options for our tour to ensuring that any hiccups were dealt with smoothly and promptly. The tour itself was also amazing and our restaurant recommendations were all delicious. Definitely going to recommend to friends and family as well as do another trip sometime on the future!"
"From my first inquiry with Sara until the offboarding after our trip, the whole experience was premium and worth every penny of the price. Having done many roadtrips ourselves, I think the pre-planned routes impressed us the most, not a single moment of our 800km in the car was wasted on uninteresting roads. Then there was the hotels, the restaurants, the 24/7 WhatsApp assistance… and the Ferrari Roma….. We'll definitely be back. Thank you Sara."
"If we could describe our Colcorsa experience in one word it would be gestalt. We honestly can't thank Sara enough for curating our dream honeymoon, in the dreamiest locations and in the dream car. From the moment we connected with Sara and started planning our Colcorsa adventure we knew we were in gifted hands."
"Amazing experience. Sara & the Colcorsa team did a superb job providing us with a fantastic car (992 GTS), brilliant route that included some great driving roads, perfect spots for stops, and wonderful hotels. I wouldn't hesitate to recommend them!"
"By far the best trip I've ever taken. Would highly recommend to anyone that even remotely likes cars and traveling. Looking forward to planning another itinerary."
"We had an amazing time. Driving this car was a dream come true and Colcorsa made it possible. Sara was very helpful during the entire process. The only "downside" is that it would be very hard in the future to be impressed by another car 😉 I would recommend to anyone to use the services offered by Colcorsa."
"It was first rate from start to finish. The beautiful Audi R8 arrived on time at our hotel and Alex explained everything about the car and trip we needed to know. The Garmin led us flawlessly from point to point in a country which we had never before traveled. The suggested route allowed us to drive over the most amazing roads imaginable. When we arrived at our hotel in St Moritz , our luggage was waiting for us and the car handed back smoothly. I would certainly do it again and with this agency."
"Sara made booking super easy and the delivery from Barrie was fun and informative. We toured around Nice and Menton finishing at Hotel du Cap. We loved every minute and the car was the icing on our anniversary cake! A very special car, definitely draws attention, in a good way!!!"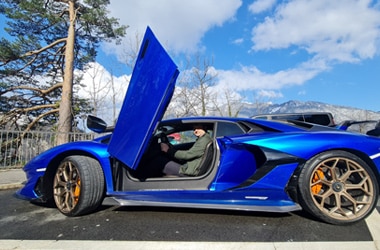 Aventador SVJ driving experience
Birthday supercar experience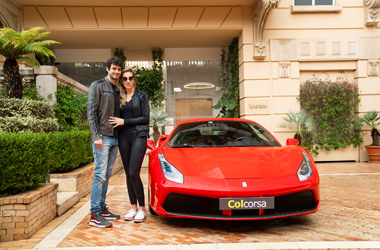 Car: Ferrari 488 GTB
Tour: 2-day driving tour from Monaco (bespoke)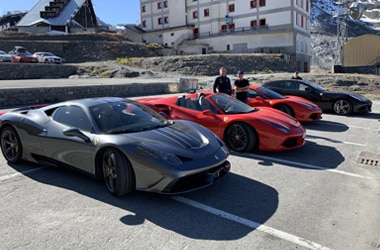 50th birthday Ferrari adventure
Car: 458 Speciale, 488 Spider, 488 GTB & GTC4 Lusso
Tour: Milan to Munich (bespoke)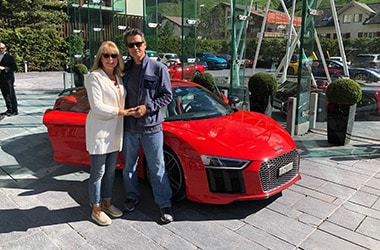 Swiss Alps driving holiday
Car: Audi R8 V10 Plus
Tour: Zürich to St. Moritz (bespoke)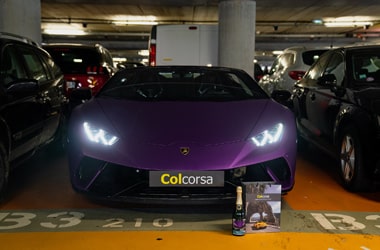 Birthday Lamborghini road trip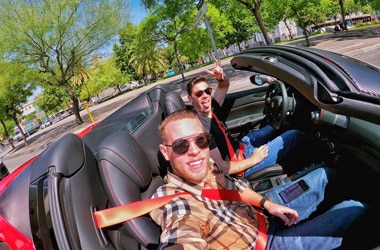 Ferrari driving experience
Car: Ferrari 488 Spider
Tour: 1-day supercar experience – Barcelona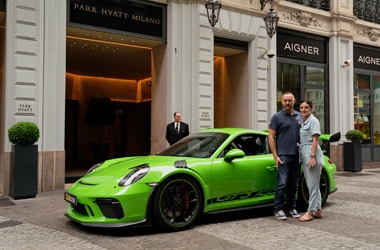 Porsche honeymoon in Italy
Car: Porsche 991 GT3 RS
Tour: Milan to Lake Garda (bespoke)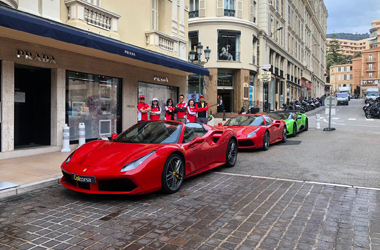 Ferrari vs. Lamborghini drive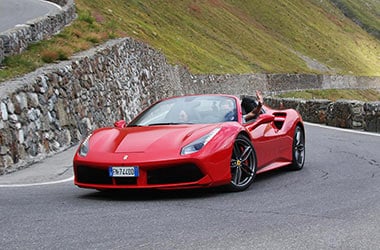 Ferrari honeymoon in Italy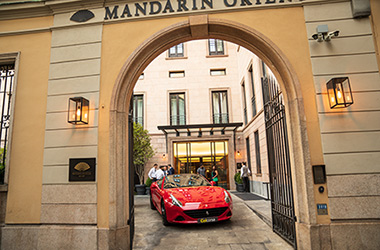 Stelvio Pass in a Ferrari
Côte d'Azur Corporate Tour
Car: 7 supercars – 675LT, Aventador, GT3 RS etc
Tour: Monaco – Provence – Èze (bespoke)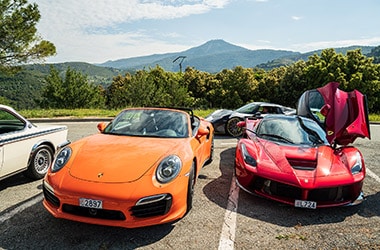 Car: LaFerrari, Porsche 918 Spyder & 911 Turbo Cab
Tour: Barcelona to Monte Carlo (bespoke)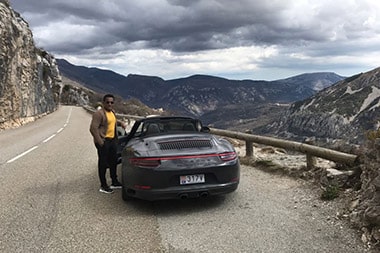 South of France & Liguria
Car: Porsche 911 Carrera 4 GTS Cab
Tour: Monaco – Provence – Portofino (bespoke)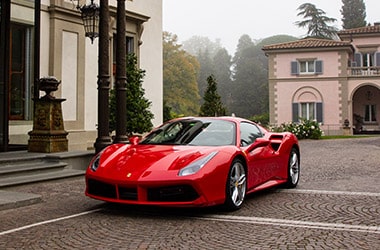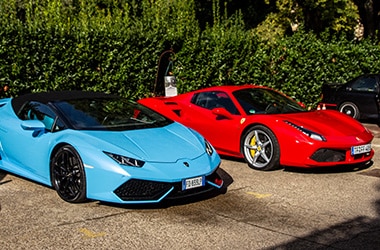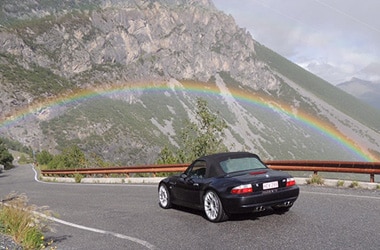 Car: BMW M Roadster
Tour: Swiss, Italian & Austrian Alps (bespoke)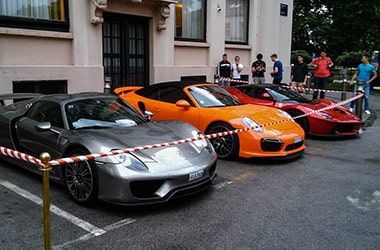 Car: LaFerrari, Porsche 918 Spyder & 911 Turbo Cab
Tour: Dubrovnik to Monte Carlo (bespoke)