Supercar driving holidays in Europe
Colcorsa is an organiser of supercar driving holidays in Europe, offering a selection of bespoke supercar and sports car luxury driving holidays on the most scenic driving roads in Europe. Come and enjoy the world's greatest driving roads in the best driver's cars – breathtaking scenery, challenging alpine passes, luxurious five star hotels and beautiful stops along the way. All of the driving tours on our website can be booked as self-drive tours as well as guided group tours. We also offer an alternative to our supercar driving tours for the travellers who prefer to stay in the same place. Wake up with the same view, but have a new supercar or classic car delivered to your doorstep every morning. Read more about our Supercar Week – the ultimate driving experience!
Our team at Colcorsa don't just design great driving holidays. We understand business, and the need for high standards of customer service when planning your corporate event. We specialise in exciting year-round supercar tours, events and corporate incentives designed specifically to your requirements. Our corporate driving experiences are available in some of the world's fastest, most glamorous and exclusive cars in the world.
Our mission is to provide luxurious supercar driving tours to individuals, couples and groups who wish to explore the most beautiful regions of Europe by car. With years spent driving around searching for the best driving roads in Europe, we wanted to share our experiences and design road trip itineraries for others to enjoy. We work with several partners spread all over Europe to provide you the most recent models of supercars and sports cars, as well as iconic classic cars, in all of the regions where we offer luxury driving tours. Is your dream to drive the Stelvio Pass in a Lamborghini? Or tour the Swiss Alps in a Porsche? Maybe enjoy a summer road trip through Tuscany in a Ferrari? Dream first, then drive.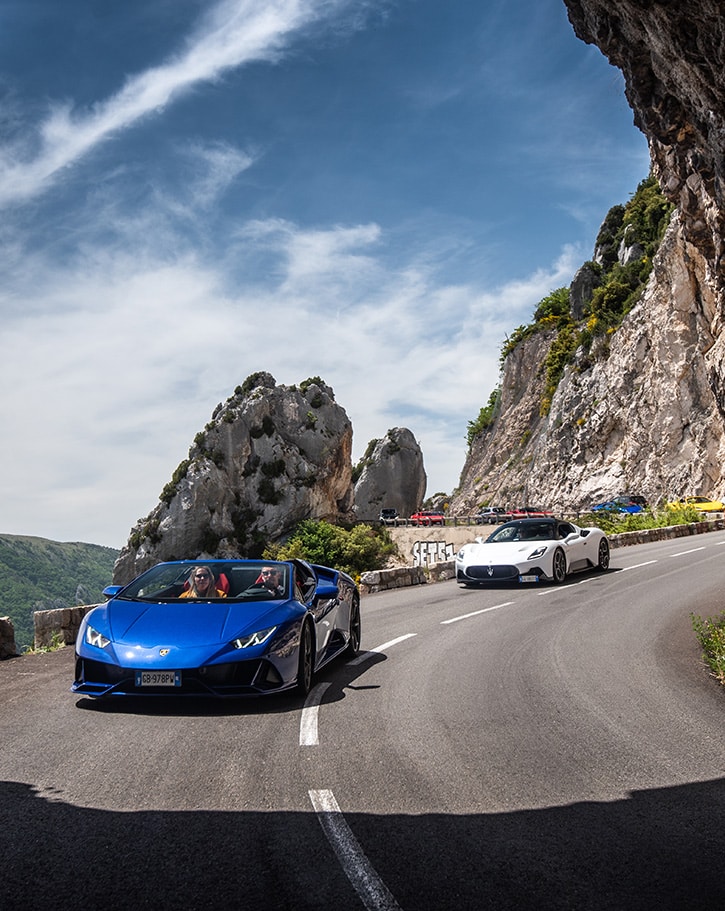 Choose your dream touring region
Which part of Europe do you wish to explore?
Can't find your dream destination? We can also design bespoke tours in exotic locations –
spend a full day behind the wheel of your dream car
1-day supercar experiences
exclusive accommodation, fantastic driving routes and your choice of machine
At Colcorsa we do not only provide thrilling high performance cars for your European driving holiday, but also classic cars for those who would like to tour at a slower pace in style. In our fleet we have several iconic classics – from the elegant Mercedes Pagoda to the legendary Porsche 356 Speedster – for you to enjoy on some of the most scenic roads in Europe…
We're here to make your
road trip dreams come true
"We had an excellent experience working with Sara on our trip. She always went the extra mile from preparing different options for our tour to ensuring that any hiccups were dealt with smoothly and promptly. The tour itself was also amazing and our restaurant recommendations were all delicious. Definitely going to recommend to friends and family as well as do another trip sometime on the future!"
"From my first inquiry with Sara until the offboarding after our trip, the whole experience was premium and worth every penny of the price. Having done many roadtrips ourselves, I think the pre-planned routes impressed us the most, not a single moment of our 800km in the car was wasted on uninteresting roads. Then there was the hotels, the restaurants, the 24/7 WhatsApp assistance… and the Ferrari Roma….. We'll definitely be back. Thank you Sara."
"If we could describe our Colcorsa experience in one word it would be gestalt. We honestly can't thank Sara enough for curating our dream honeymoon, in the dreamiest locations and in the dream car. From the moment we connected with Sara and started planning our Colcorsa adventure we knew we were in gifted hands."
"Amazing experience. Sara & the Colcorsa team did a superb job providing us with a fantastic car (992 GTS), brilliant route that included some great driving roads, perfect spots for stops, and wonderful hotels. I wouldn't hesitate to recommend them!"
"By far the best trip I've ever taken. Would highly recommend to anyone that even remotely likes cars and traveling. Looking forward to planning another itinerary."
"We had an amazing time. Driving this car was a dream come true and Colcorsa made it possible. Sara was very helpful during the entire process. The only "downside" is that it would be very hard in the future to be impressed by another car 😉 I would recommend to anyone to use the services offered by Colcorsa."
"It was first rate from start to finish. The beautiful Audi R8 arrived on time at our hotel and Alex explained everything about the car and trip we needed to know. The Garmin led us flawlessly from point to point in a country which we had never before traveled. The suggested route allowed us to drive over the most amazing roads imaginable. When we arrived at our hotel in St Moritz , our luggage was waiting for us and the car handed back smoothly. I would certainly do it again and with this agency."
"Sara made booking super easy and the delivery from Barrie was fun and informative. We toured around Nice and Menton finishing at Hotel du Cap. We loved every minute and the car was the icing on our anniversary cake! A very special car, definitely draws attention, in a good way!!!"
We feature some of the world's most exclusive hotels on our tours