At Colcorsa we offer luxury driving tours in Europe in a Porsche – either in a rental car from our extensive sports car hire fleet, or if you have arranged a Porsche European Delivery for your new Porsche our team can assist in planning the perfect European Delivery driving holiday, ranging from shorter tours with just 2-4 days of driving from the Porsche factory in Zuffenhausen (Stuttgart), to more extensive adventures passing through multiple countries in Europe
Our team has extensive experience in designing bespoke luxury driving tours, with the perfect combination of touring on Europe's best driving roads and relaxing in exclusive luxury hotels between the drives. You can choose from one of our existing driving tour itineraries on the website on our Driving Tours page – all of them also available to be customised into European Delivery tours in your own Porsche – or get in touch with our team to plan the perfect bespoke Porsche tour.
Colcorsa is not affiliated with Dr. Ing. h.c. F. Porsche AG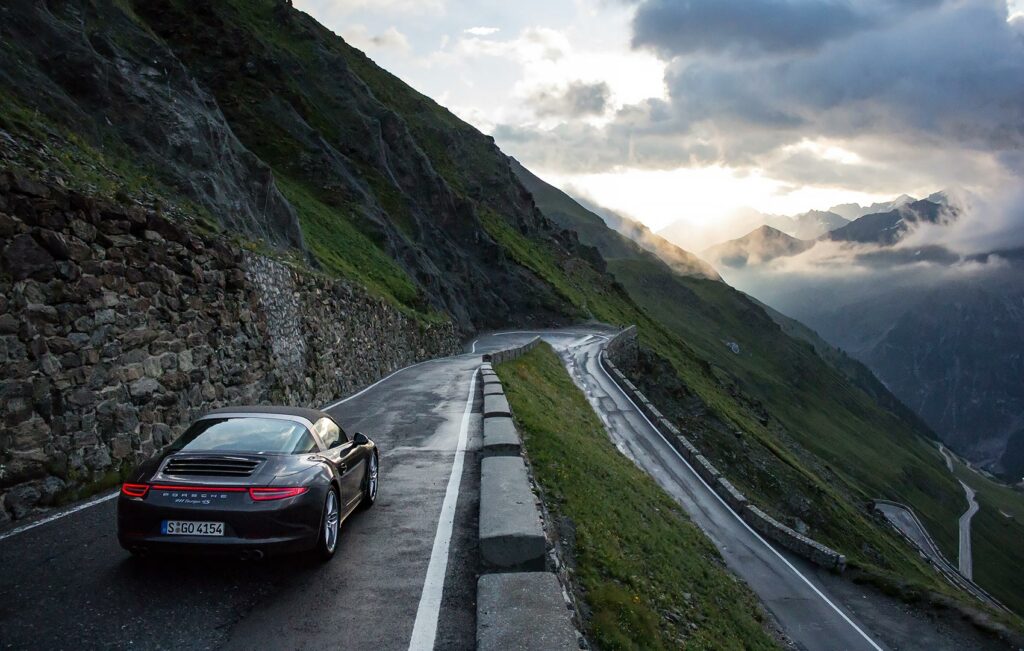 Experience your dream car
Driving tours in a Porsche
Our self-drive luxury driving tours feature some of Europe's most exclusive luxury hotels, scenic driving roads - perfect sports car territory - and interesting places to visit en route. We have tours available in many European countries - France, Switzerland, Italy, Austria and more - and by request we would be happy to design adventures also to other exotic destinations.
Create memories from day one
European Delivery Road Trip
Take delivery of your new Porsche in Germany at the Porsche factory, and head straight out on a Colcorsa driving adventure in Europe before it is time to ship the car home. You can choose your dream itinerary on our Driving Tours page - we would be happy to add in additional scenic drives to reach the start city from Zuffenhausen - or get in touch with our team to plan a bespoke itinerary.
Classic car rental & tours
Enjoy a classic Porsche
In the fleet of classic cars you can find a few elegant Porsche models - all manual - to enjoy on Europe's most beautiful roads. We can offer an iconic Porsche 911 2.7 from the mid 70's, or a rapid little late 50's Porsche 356 Speedster rebuild with a 2.2 engine, and a Porsche 356 Speedster replica from the 80's. The cars are available for self-drive hire or on our classic car tour in the South of France.
Porsche models in our fleet
Luxury driving tours in Europe